Flounder With Bananas, Almonds and Rum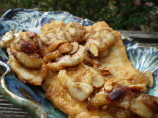 Photo by breezermom
Prep Time: 10 mins
Total Time: 25 mins
Servings: 4-6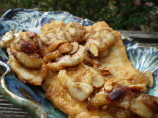 Photo by breezermom
About This Recipe
"A requested favorite served at the Black Dog restaurant on Martha's Vineyard. This is a fun, tropical combination of ingredients and flavors. It's pretty healthy, too. Enjoy!"
Ingredients
Flounder

1 cup flour

1/2 teaspoon kosher salt

1/4 teaspoon fresh ground black pepper

2 lbs flounder, flillets

2 eggs, beaten

2 tablespoons canola oil

1 tablespoon unsalted butter

Sauce

1/4-1/2 cup sliced almonds

2 ripe bananas, sliced

1/4 cup rum

2 tablespoons unsalted butter

1 pinch ground nutmeg

kosher salt & freshly ground black pepper, to taste
Directions
Warm oven to 200 degrees F. or lowest setting - to keep fish warm.

Mix the flour with the salt and pepper on a large plate.

Dredge the flounder in the flour, shake off excess, and dip in the beaten egg.

Combine the butter and oil in a large saute pan and put over med-high heat.

Add the flounder fillets and saute quickly, about 2-3 minutes per side.

Remove from the pan and set aside in a warm oven.

To the same pan, add the almonds and saute briefly, then add banana slices.

Hold pan away from the heat (very important so it doesn't flame) and add rum. * Never pour rum directly from the bottle into a hot pan, since it is highly flamable.

Return the pan to heat.

Add the butter and nutmeg - adjust seasoning.

Cook briefly and pour sauce over the flounder.

Enjoy!