Spicy Nutmeg Chicken (Grenada -- Caribbean)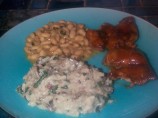 Photo by breezermom
Prep Time: 5 mins
Total Time: 1 hr 31 mins
Servings: 6-8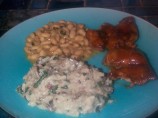 Photo by breezermom
About This Recipe
"Although this recipe has been modified slightly, the original was found on the online at recipeisland.com."
Ingredients
FOR THE NUTMEG SYRUP

1 cup water

1/2 cup dark brown sugar, packed

1/2 teaspoon ground cinnamon

1/2 teaspoon ground nutmeg

1 tablespoon cornstarch

1 tablespoon water

1/4 teaspoon rum flavoring

FOR THE CHICKEN

8 chicken thighs

2 garlic cloves, crushed, minced

1/4 cup onion, grated

1/4 teaspoon salt, to taste

1/8 teaspoon pepper, to taste

1/4 cup soy sauce

1/4 teaspoon pepper sauce

1/2 cup nutmeg syrup

1/4 teaspoon ground ginger
Directions
FOR THE NUTMEG SYRUP: In a saucepan, combine the 1 cup of water along with the sugar, cinnamon & nutmeg. Mix thoroughly & bring to a boil, then reduce heat & cook, stirring for 2-3 minutes.

In a small container combine cornstarch & water & mix thoroughly, before stirring it into the syrupy mixture, & blending well.

Simmer the syrup for another 5 minutes or so until thickened somewhat.

Remove from heat & stir in the rum flavoring, then set aside.

FOR THE CHICKEN: Preheat oven to 400 degrees F.

Place chicken thighs in a 13"x9" baking dish

In a small container combine garlic, onion, salt & pepper, mixing well, then spread this mixture over the chicken thighs.

Bake thighs for 15 minutes, then remove from oven.

While chicken is baking, in a bowl, combine soy sauce, pepper sauce, Nutmeg Syrup & ground ginger, mixing well.

After the 15 minutes of baking, remove chicken from the oven & turn the temperature down to 350 degrees F.

Baste the thighs with the Nutmeg Syrup mixture & return them to the oven to bake for at least 60 minutes, basting frequently.

Serve hot with additional syrup mixture, if desired.