Filetes De Chillo in Salsa (Puerto Rican Fish Fillets)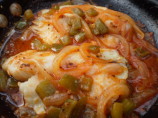 Photo by breezermom
Prep Time: 5 mins
Total Time: 40 mins
Servings: 6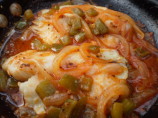 Photo by breezermom
About This Recipe
"Fish baked in beer and served with a stovetop sauce. Chillo is a local Puerto Rican fish, but you can use whatever is available to you. From the Complete Caribbean Cookbook."
Ingredients
6 fish fillets

1 tablespoon butter

1/4 cup beer

3 garlic cloves, crushed

1 tablespoon lime juice ( or to taste)

3 tablespoons vegetable oil

1 onion, sliced

1 teaspoon dried oregano

1/2 green bell pepper, chopped

1 tablespoon tomato paste

3/4 cup chicken stock

1/4 cup dry white wine
Directions
Preheat oven to 350°.

Place fish in a single layer in a baking dish and dot with butter.

Add beer, lime juice, and 1 clove garlic.

Bake 30 minutes, basting occasionally.

Meanwhile, heat oil in a skillet over high heat.

Add onion, remaining garlic, oregano and bell pepper. Saute until onion is tender, about 5 minutes.

Add remaining ingredients to pan and cook for an additional 10-15 minutes.

When fish is done, remove from oven and place in sauce. Cook over medium-low heat until fish is heated through and flavored with the sauce.