Meat Lovers "kick off Chili"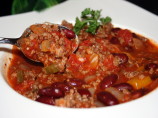 Photo by **Tinkerbell**
Prep Time: 15 mins
Total Time: 50 mins
Servings: 12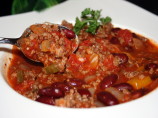 Photo by **Tinkerbell**
About This Recipe
"I've had this recipe for 20 plus yrs.not sure where I got it? But it is a football season having friends and family over must! Everyone will want the recipe so be ready with a copy! Also always a great cold weather comfort food, I love it with corn bread. Freez portions for quick delicious meals later too!"
Ingredients
1 lb ground beef

1 lb pork sausage

1 onion

2 garlic cloves

1 green bell pepper

1 lb smoked sausage

1 tablespoon ground oregano

3 tablespoons chili powder

1 teaspoon ground coriander

1 1/2 teaspoons celery seeds

2 (28 ounce) cans tomatoes

2 (27 ounce) cans kidney beans

1/3 cup yellow cornmeal
Directions
In a large heavy pot or Dutch oven, over medium heat, brown ground beef and ground pork sausage with 1 lg onion coarsely chopped and 2cloves of garlic minced.Add 1lg green bell pepper cut into 3/4" chunks and smoked sausage cut into 3/4"chunks; continue cooking 5-10 min longer. Reduce heat to low; drain fat. Blend in spices and chopped tomatoes with all their juice. Simmer 5-10min. Stir in kidney beans (reserve liquid). In a bowl, blend a little of the reserved bean liquid with cornmeal to consistency similar to pancake batter; mix with chili simmering another 10-15min. Stirring occasionally.