Caribbean-Style Grilled Seafood Soup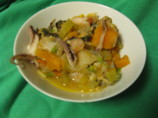 Photo by realbirdlady
Prep Time: 0 mins
Total Time: 1 hr 30 mins
Servings: 5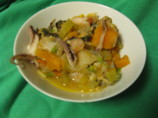 Photo by realbirdlady
About This Recipe
"Found at recipe.aol. com for ZWT5"
Ingredients
10 medium shrimp, peeled and deveined

12 medium sea scallops

10 ounces fish fillets ( mackeral or kingfish)

8 ounces lobster tails, shelled

3 tablespoons vegetable oil

2 large yellow onions, diced small

3 stalks celery, diced small

2 tablespoons minced garlic

1 cup white wine

1 1/2 quarts bottled clam juice

1/2 teaspoon ground cumin

1/4 teaspoon allspice

2 large sweet potatoes, cut into large cubes

1/2 lb fresh okra, thickly sliced

2 fresh tomatoes, cut into large chunks

salt & freshly ground black pepper ( white is best if you have it)

4 tablespoons lime juice ( about 2 limes)

2 tablespoons fresh chili peppers ( minced)

3 tablespoons cilantro ( chopped)
Directions
Over a hot fire, grill each kind of seafood separately. The shrimp will take approximately 3 to 4 minutes per side, the scallops 3 minutes per side, the kingfish 5 minutes per side, and the lobster 4 minutes per side. As each is done, remove it from the grill, and set aside. (Note: You are looking for the seafood to get some color on its surface: Don't worry too much about cooking it completely, since it will finish in the broth.).

In a large saucepan or soup pot, heat the oil until very hot but not smoking. Sauté the onion and celery in the hot oil until clear, about 5 minutes. Add the garlic, and sauté an additional minute.

Add the wine, clam juice, cumin, and allspice to the pot, and bring to a simmer.

Add the sweet potato, okra, and tomato, and continue to simmer for 30 minutes.

At this point, add any of the seafood that is not completely cooked, and simmer for 4 more minutes.

Just before serving, add the remainder of the seafood, and simmer for 1 minute, just to warm it through. Remove the pot from the heat and add salt and pepper to taste. Just before serving, toss in the lime juice, chili peppers, and cilantro, and stir briefly.