Traditional 8 Layer Doberge Cake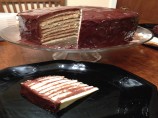 Photo by Natasha H.
Prep Time: 25 mins
Total Time: 1 hr 50 mins
Serves: 8-10, Yield: 8 slices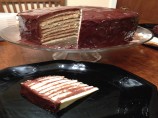 Photo by Natasha H.
About This Recipe
"This came to me second hand, but I'm told it is the original recipe from "Let's Bake with Beulah Ledner", compiled by the daughter of the "Doberge Queen of New Orleans" after her death. And in case you are interested, the Louisianna pronunciation of "Doberge" is "Dough-bosh"... This is an impressive cake....and does require an impressive effort!! All ingredients should be at room temperature before you begin. The prep and cook time are estimates (edited after Syd's review so hopefully pretty close) and do not include cooling/chillilng time. Good Luck!"
Ingredients
For the Doberge torte

177.44 ml butter

473.18 ml sugar

1.23 ml salt

4 eggs, separated, whites stiffly beaten

236.59 ml milk

14.78 ml baking powder

828.06 ml cake flour ( measured after sifting)

scant teaspoon lemon juice

4.92 ml vanilla

For the Chocolate Custard

473.18 ml granulated sugar

2.46 ml salt

59.16 ml flour

59.16 ml cornstarch

2 kitchen spoons cocoa ( heaping spoonfuls)

59.16 ml bitter chocolate

4 eggs ( whole)

14.79 ml butter

14.79 ml vanilla

946.36 ml milk

For the Chocolate Butter Cream Icing

473.18 ml confectioners' sugar, sifted

226.79 g oleo, softened ( margarine)

4.92 ml vanilla

236.59 ml cocoa

28.34 g bitter chocolate, melted

For the Chocolate Icing

236.59 ml light brown sugar

236.59 ml granulated sugar

4 semi-sweet chocolate baking squares, melted

59.14 ml butter

177.44 ml cream

4.92 ml vanilla
Directions
To prepare the Torte: Cream butter, sugar and salt until smooth. Add egg yolks, one at a time, and blend until smooth. Add sifted dry ingredients alternately with milk. Beat until blended. Add vanilla and lemon juice. With a spatula, fold in stiffly beaten egg whites. Grease 9-inch cake pans. Pour ¾ cup batter into each pan, spreading evenly over bottom. Bake in preheated 375-degree oven for 12 to 15 minutes. Repeat process until batter is completely used, to make eight thin layers.

To prepare the Chocolate Custard: Stir all dry ingredients together in a saucepan, then add the remaining ingredients. Cook over medium heat until thick, stirring constantly. Remove from fire to cool.

To prepare the Chocolate Butter Cream Icing: Cream sugar and oleo, then add cocoa, then the melted chocolate and vanilla. If too thick, add a little hot water, very slowly, until the consistency is right.

To prepare the Chocolate Icing: Combine all ingredients in a saucepan and let it come slowly to a boil, then boil about 10 minutes until it thickens. Beat until thick enough to spread.

To Finish: When cool, put torte layers together with chocolate custard filling and spread chocolate butter cream icing on top and sides. Chill. Then ice with the Chocolate Icing.