Chocolate Chipotle Cookies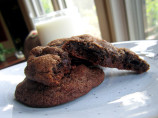 Photo by yogiclarebear
Prep Time: 20 mins
Total Time: 1 hr
Serves: 18-20, Yield: 42 cookies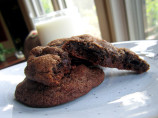 Photo by yogiclarebear
About This Recipe
"I found this recipe on a baking blog that I frequently read. These cookies have a Southwest flair that satify a chocolate craving with a little spicy kick! The original recipe called for 2 cups of nuts, roughly chopped and toasted, but I don't really care for nuts in cookies, so I never make them that way."
Ingredients
2 cups all-purpose flour

1/2 cup unsweetened cocoa powder

1 teaspoon baking soda

1/2 teaspoon salt

3 teaspoons cinnamon

1/2 teaspoon dried chipotle powder

1/4 teaspoon nutmeg

1 cup butter, softened ( 2 sticks)

3/4 cup granulated sugar ( can use 1/4 c. Splenda as part of it)

1/2 cup brown sugar, packed

1/4 cup honey

1 tablespoon vanilla extract

2 large eggs

1 (12 ounce) bags semi-sweet chocolate chips

Cinnamon-sugar coating

1/2 cup granulated sugar

2 teaspoons cinnamon
Directions
Mix flour, cocoa, baking soda, salt and spices together in a medium bowl.

In a separate large bowl, cream butter with sugars, honey and vanilla extract.

Beat in eggs, one at a time.

Slowly incorporate dry mixture into batter. Stir in chocolate chips and nuts (if using - see intro).

Chill batter in refrigerator for approximately 15 minutes. Preheat oven to 375 degrees.

Roll into tablespoon-sized balls (I scoop dough with a cookie scoop, then roll into balls; it's easier) and coat with cinnamon sugar coating. Place on cookie sheets that are lined with parchment. Place unused raw batter back in refrigerator between batches.

Bake for approximately 10 minutes, or until the outer surface begins to crack. Cool cookies on a wire rack before storing in an airtight container.