Julia's Famous Spicy Barbecue Sauce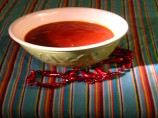 Photo by Julia Lynn
Prep Time: 5 mins
Total Time: 35 mins
Servings: 8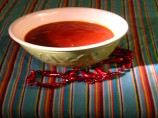 Photo by Julia Lynn
About This Recipe
"This is a combination of different recipes I have tried over the past couple of years, keeping the elements I like the most. Everyone asks for the recipe so here it is! I like a spicy sauce. It's not too hot, but not sweet like most sauces out there. I'm still playing around with it, but I like how its going so far! ** update ** I have decided that perhaps pureeing the onions and garlic might be beneficial because most barbecue sauces don't have chunks of onion and garlic! I will work to change test and change this soon (3/2/10)"
Ingredients
1 tablespoon vegetable oil

1/2 cup onion, minced

1 1/2 tablespoons garlic, minced

1/4 cup apple cider vinegar

1 1/2 cups ketchup

1/2 cup brown sugar

1 tablespoon dried mustard

1/2 tablespoon chili powder

1 teaspoon salt

1 teaspoon cumin

1/2 tablespoon cayenne pepper ( to taste)

1 1/2 tablespoons hot sauce

1 teaspoon liquid smoke

2 teaspoons garlic powder

1 tablespoon honey

1/4 teaspoon black pepper
Directions
Heat vegetable oil in a medium saucepan over medium heat. Add garlic and onions and cook, stirring, until softened.

Add the vinegar to the pan and cook for an additional 2 minutes.

Place everything else in the pan stir and bring to a simmer. Cook for at least 30 minutes, or until thick.

You may use it right away or cool it and refrigerate for later use.