Carrot Cake With Buttermilk Glaze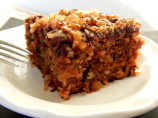 Photo by Vseward (Chef~V)
Prep Time: 20 mins
Total Time: 1 hr 15 mins
Servings: 10-12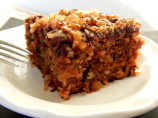 Photo by Vseward (Chef~V)
About This Recipe
"This is Grandma Great's recipe. What makes this cake different from other's posted here is additional coconut and walnuts in the glaze and the technique of broiling the cake with the glaze. The amounts are a little different too. This is by far our favorite carrot cake. If you don't want a cream cheese frosting, this glaze is a perfect compliment to a moist but very dense cake. Do not Beat the cake mix, stir by hand - very important!"
Ingredients
2 cups all-purpose flour

2 teaspoons baking soda

1/2 teaspoon salt

2 teaspoons ground cinnamon

2 cups sugar

3 large eggs

3/4 cup vegetable oil

3/4 cup buttermilk

2 teaspoons vanilla extract

2 cups shredded carrots

1 (8 ounce) cans crushed pineapple, drained

1 cup flaked coconut

1 cup chopped walnuts

BUTTERMILK GLAZE

1 cup sugar

1 teaspoon baking soda

1/2 cup buttermilk

1/2 cup butter or 1/2 cup margarine

1 tablespoon light corn syrup

1 teaspoon vanilla extract

1/2 cup flaked coconut

1/2 cup chopped walnuts ( fine chop)
Directions
Preheat oven 350 degrees F. Spray a 13 x 9-inch baking dish with cooking spray (No need to grease - there is oil in the cake batter).

In a bowl beat eggs with sugar, oil, buttermilk and vanilla for about 5 minutes (beat for 5 minutes, no less!).

In another bowl mix together flour, baking soda, cinnamon, and salt; add to the egg mixture *STIR* with wooden spoon until combined.

Fold in carrots, drained pineapple, coconut and walnuts; mix with wooden spoon until combined.

Transfer to prepared baking dish.

Bake for 30 minutes until golden brown. Cover the pan loosley with foil to prevent excess browning. Continue to cook another 25 minutes.

Buttermilk glaze:.

In a heavy saucepan bring the sugar, baking soda, butter, buttermilk and corn syrup to a boil over medium-high heat.

Cook for about 2 minutes add 1/2 cup coconut and 1/2 cup finely chopped walnuts.

continue to cook another 2 minutes or until the mixture is golden brown.

Remove from heat and stir in vanilla.

Poke holes in cake (I use a kabob skewer) Pour buttermilk glaze over hot cake.

BROIL:.

Return cake to oven and broil until bubbly -- about 1-2 minutes.

Cool completely before serving.