Curried Creole Chicken & Black Beans-A Winner!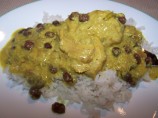 Photo by wicked cook 46
Prep Time: 30 mins
Total Time: 1 hr 15 mins
Servings: 4-6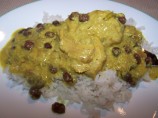 Photo by wicked cook 46
About This Recipe
"This is a real winner, not to difficult to make but so full of flavor. Authentic and just what is needed when you want to imagine sitting on a sunny creole beach. (taken from cooking with Asinus Asinum Fricat)"
Ingredients
2 fryer chickens ( cut up or chicken pieces)

4 medium red onions

1 leek

8 garlic cloves

1/2 cup of freshly grated coconut ( coconut flakes can also do the job)

2 tablespoons curry

1 tablespoon turmeric

1 tablespoon ground allspice

1/2 pint sour cream

2 tablespoons plain flour

1 tablespoon butter

1 bouquet garni ( thyme, rosemary, parsley, bay leaf)

2 pints chicken stock

2 cups of drained black beans ( also called turtle beans)

2 fresh chili peppers, chopped up finely

2 limes ( the juice of )

salt & pepper
Directions
Sprinkle the chicken pieces with the curry powder and the turmeric. In a large skillet, add the knob of butter and start frying the onion, leek & garlic till golden.

Add the chicken pieces, brown them on all sides, add 1 tbsp of flour, stir then add half the chicken stock.

Mix well, add the bouquet garni, the coconut, the other tbsp of flour and the rest of the chicken stock.

Add the lime juice, the chilies and cover, simmering for 45 minutes over medium to low heat.

When it's almost cooked, add the black beans, whip the sour cream into it, salt & pepper. Serve with Creole rice.