Spicy Herbed Summer Gazpacho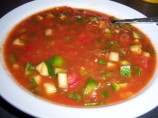 Photo by EmmyDuckie
Prep Time: 15 mins
Total Time: 25 mins
Serves: 8-10, Yield: 8.0 3/4 cup servings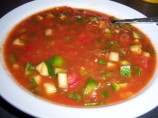 Photo by EmmyDuckie
About This Recipe
"The soup we know as gazpacho originated in Spain's southern region of Andalusia. Farm harvesters traditionally prepared their lunches in the fields by pounding garlic, stale bread, water, olive oil, and salt in a large wooden bowl, forming a sort of nourishing paste to which they added cold water. Legend maintains that Christopher Columbus took barrels of this paste on his first voyage to the New World. Discovering tomatoes, cucumbers, and bell peppers in the Andes, he added them to the mix, creating the liquid salad we still call gazpacho. From "The Florida Keys Cookbook". Prep/Cook time DOES NOT include overnight refrigeration time."
Ingredients
3 tablespoons extra virgin olive oil

3/4 cup finely diced red onion

3/4 cup finely diced red bell pepper

3/4 cup finely diced green bell pepper

3 large garlic cloves, minced

2 cups organic tomato juice

2 cups reduced-sodium spicy vegetable juice

1 cup reduced-sodium Clamato juice

1 cup organic chicken broth or 1 cup vegetable broth

3 tablespoons snipped fresh parsley or 1 tablespoon dried parsley

3 tablespoons snipped fresh basil or 1 tablespoon dried basil

3 tablespoons snipped fresh chives or 1 tablespoon dried chives

kosher sea salt & freshly ground black pepper

2 cups seeded diced fresh tomatoes

1 English cucumber, peeled, sliced thin, then diced ( about 1 1/2 cups)
Directions
ONE DAY AHEAD:.

Place olive oil in a 5-quart saucepan over medium heat.

When oil is hot, add onions, red and green peppers and garlic. Saute until soft, about 7 minutes.

Add tomato juice, V-8 juice, Clamato juice, chicken broth, parsley, basil and chives.

Season with salt and pepper to taste.

Raise heat to high and bring mixture to boil.

Immediately remove from heat and add tomatoes and cucumber.

Stir to combine.

Transfer soup to a covered container and refrigerate overnight to marry flavors.

TO SERVE:.

Transfer soup to individual bowls.

Serve soup cold with sides of bread, cheese, croutons, or crackers.

NOTE: The secret to a good gazpacho is the harmonious marriage of flavors. This soup is best at peak harvest season, when vine-ripened tomatoes, peppers, and cucumbers are available.