Weeknight Red Beans and Rice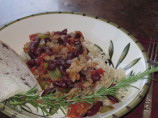 Photo by CaliforniaJan
Prep Time: 10 mins
Total Time: 30 mins
Servings: 6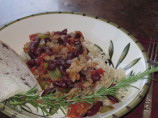 Photo by CaliforniaJan
About This Recipe
"A quick way to serve a nutritious, but delicious meal."
Ingredients
1 1/2 cups raw long grain rice ( or brown rice)

1 tablespoon canola oil ( or butter)

2 3/4 cups water

1 medium onion, diced

1 bell pepper, diced

3 stalks celery, diced

2 tablespoons canola oil ( or butter)

1 lb smoked turkey sausage, sliced

1/2 teaspoon red cayenne pepper ( or to taste)

1 teaspoon cajun seasoning

1 bay leaf

1 teaspoon minced garlic

1 can diced tomato

2 cans red beans ( or kidney beans)

salt, pepper and hot sauce to taste
Directions
Heat 1 tbsp oil or butter in medium non-stick pan (that has a lid).

Add rice and stir in the hot oil until most of the kernels are opaque.

Add water and bring to a boil.

Reduce to a simmer, cover, and cook for 15 minutes.

(If using brown rice, increase water and cooking time slightly) Meanwhile dice vegetables.

Heat 2 tbsp oil or butter in a large non-stick pan or Dutch oven.

Add the diced onion, bell pepper, celery and garlic.

Saute until tender.

Add the sliced turkey smoked sausage and saute until heated through and slightly browned.

Add pepper, seasoning and bay leaf.

Continue to stir and saute for about three minutes.

Add diced tomatoes and canned beans (do not drain).

Add salt, pepper and hot sauce to taste.

Simmer about 15 minutes, then remove bay leaf.

Place about 3/4 cup rice in the bottom of a soup bowl.

Cover with red bean mixture.

Serve with French bread and pass more hot sauce.