Spanish Spice Rubbed Rib-Eye With Sherry Vinegar Steak Sauce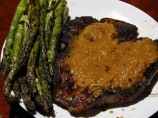 Photo by Dr. Jenny
Prep Time: 20 mins
Total Time: 30 mins
Servings: 4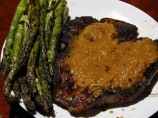 Photo by Dr. Jenny
About This Recipe
"Another Spanish recipe from Bobby Flay. Posted for ZWT5 Spain"
Ingredients
2 grilled red bell peppers, peeled, seeded and chopped ( or 4 piquillo peppers, drained and chopped)

3/4 cup aged sherry wine vinegar

3 tablespoons Dijon mustard

1 tablespoon prepared horseradish, drained

2 tablespoons honey

1 tablespoon molasses

2 teaspoons Worcestershire sauce

1 teaspoon kosher salt

1/2 teaspoon fresh ground pepper

For the Spanish spice rub

3 tablespoons spanish paprika

1 tablespoon dried ancho chile powder

1 tablespoon mustard seeds, ground

1 tablespoon fennel seed, ground

2 teaspoons kosher salt

1 teaspoon fresh coarse ground black pepper

For the rib-eye

4 (12 ounce) boneless rib-eyes or 4 (12 ounce) New York strip steaks or 4 (12 ounce) filet mignon

olive oil

salt & freshly ground black pepper
Directions
For the sherry vinegar steak sauce:.

Place the peppers, vinegar, mustard, horseradish, honey, molasses, Worcestershire, salt and pepper in a food processor or blender and blend until smooth, watching for steak sauce consistency. Can be made 1 day in advance and refrigerated.

For the Spanish spice rub:.

Whisk together the paprika, anco chili powder, mustard, fellen, salt and pepper in a small bowl until combined.

Twenty minutes before grilling, remove the steakds from the refrigerator and let sit, covered at room temperature.

Preheat grill to high.

Brush the steaks on both sides with oil and season liberally with salt and black pepper. Rub 1 side of each steak with 1 tablespoon of the rub. Place the steaks on the grill, rub-side down and let cook until golden brown and slightly charred, 3 to 4 minutes. Turn steaks over and continue grilling 4 to 5 minutes for medium-rare doneness (internal temperature 135 degrees F), medium doneness (140 degrees F), medium-well doneness (150 degrees F). Remove the steaks to a cutting board or platter, tent loosely with foil and let rest 5 minutes before slicing. Serve with Sherry Vinegar Steak Sauce on the side.