Slow Cooked Pork Chop Dinner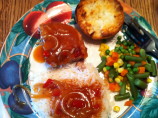 Photo by FKHamer
Prep Time: 15 mins
Total Time: 5 hrs 15 mins
Servings: 6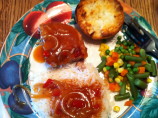 Photo by FKHamer
Ingredients
6 pork loin chops

1 tablespoon vegetable oil

1 large onion, sliced

1 medium green pepper, chopped

1 (4 ounce) cans sliced mushrooms, drained

1 (8 ounce) cans tomato sauce

1 tablespoon brown sugar

2 teaspoons Worcestershire sauce

1 1/2 teaspoons cider vinegar

1/2-1 teaspoon salt

hot cooked rice
Directions
In a skillet, brown chops on both sides in oil; drain.

Place in a slow cooker.

Add the onion, green pepper and mushrooms.

In a bowl, combine the tomato sauce, brown sugar, Worcestershire sauce, vinegar and salt.

Pour over meat and vegetables.

Cover and cook on low for 4-5 hours or until meat is tender.

Serve with rice.