Zinfandel-Braised Beef Short Ribs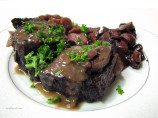 Photo by loof
Prep Time: 30 mins
Total Time: 3 hrs 30 mins
Servings: 4-6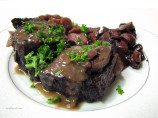 Photo by loof
About This Recipe
"I was on my home from the grocery, all set to make a different recipe, when I stopped at the library and saw this one in the May 2009 issue of Bon Appetit. I had to sub potatoes for the parsnips and used chicken broth instead of beef, but ended up very pleased with this recipe. I did not thicken the gravy, but include the instructions for doing so. This goes very well with mashed potatoes."
Ingredients
3 tablespoons butter, room temperature

8 beef short ribs or 4 lbs beef short ribs

coarse kosher salt

fresh ground black pepper

2 1/2 cups chopped red onions

2 cups cubed parsnips, 1/2 in cubes

6 garlic cloves, chopped

2 tablespoons chopped fresh rosemary

1 (750 ml) bottles zinfandel

2 cups low sodium beef broth

1 tablespoon all-purpose flour
Directions
Preheat oven to 325 deg F. Melt 1 tbl butter in heavy large ovenproof pot over medium-high heat.

Sprinkle ribs with coarse salt and pepper, and add to pot in single-layer without crowding. (Do in batches, if necessary). When browned on all sides, remove to bowl.

Add 1 tbl butter to pot (I did not as my ribs exuded enough fat). Add onions and saute until brown, about 6 minutes.

Add parsnips and saute until they begin to color, about 6 minutes.

Add garlic and then the rosemary.

Add wine and broth and bring to a boil, scraping up the browned bits from the bottom of the pot.

Return the ribs and any accumulated juices to the pot in a single layer. Bring to a simmer, cover, and place in oven.

Braise until the ribs are very tender, about 2 1/2 hours.

Using tongs, remove ribs to a serving bowl and keep warm.

Skim fat from the gravy, and boil until it starts to thicken, about 10 minutes.

In the meantime, mix together 1 tbl butter with the flour. Adding it in bits, whisk this into the gravy and continue to cook until it's thick enough to coat a spoon, about 5 minutes longer.

Season with salt and pepper. Cover ribs with gravy.

Note: This can be made up to two days ahead. Rewarm over low heat before serving.