Tropical Chicken Couscous W/ Rum Vinaigrette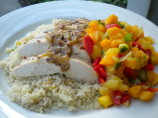 Photo by Tarteausucre
Prep Time: 5 mins
Total Time: 15 mins
Servings: 2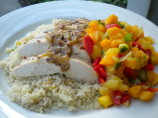 Photo by Tarteausucre
About This Recipe
"I bought some dried mango from a food market today and wanted to see if I could do something different with it. My idea was to do something with a Caribbean theme to its flavors but it certainly isn't authentic. I used chicken from a store bought rotisserie chicken to make this extra easy. The recipe could easily be scaled up to feed more."
Ingredients
3 ounces couscous

1 ounce dried mango, chopped up

5 fluid ounces boiling water

4 ounces cooked boneless skinless chicken breasts, shredded

2 green onions, chopped up

2 teaspoons slivered almonds, toasted

Rum Vinaigrette

1 1/2 tablespoons extra virgin olive oil

2 1/2 tablespoons pineapple juice

1 1/2 teaspoons dark rum

1 teaspoon lime juice

1/4 teaspoon dried chili pepper flakes

1/2 teaspoon brown sugar
Directions
Put the dried couscous and dried mango into a large bowl and pour over the boiling water.

Cover bowl tightly with plastic wrap and let sit for 10 minutes.

Meanwhile, whisk together the rum vinaigrette.

After the couscous has finished cooking, take the plastic off and add chicken and green onions to the bowl and stir just to combine.

Pour over the vinaigrette toss the mixture to make sure it all gets a bit of the dressing.

Stir through the toasted almonds and season if you feel necessary.

Serve.