Pecan Banana Bars With Creamy Cream Cheese Frosting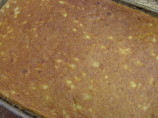 Photo by Secret Agent
Prep Time: 20 mins
Total Time: 40 mins
Serves: 32, Yield: 32 bars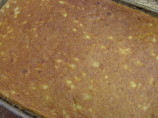 Photo by Secret Agent
About This Recipe
"I found this banana bar recipe and changed it around a little to suit our tastebuds. The frosting is FANTABULOUS and if you bring them to a potluck you will be the Queen of the Ball. The secret is the overripened frozen bananas!"
Ingredients
1/2 cup unsalted butter, room temperature

1 1/3 cups sugar

2 eggs, room temperature ( use large eggs)

1 cup sour cream, room temperature

1 teaspoon real vanilla extract

2 cups all-purpose flour

1 teaspoon baking soda

1/2 cup pecans, toasted and ground

3 large bananas, very ripe and frozen then defrosted and brought to room temperature and mashed. ( It is important to use over ripened bananas and to freeze and defrost them as this is part of the li)

CREAMY CREAM CHEESE FROSTING

2 cups heavy whipping cream

8 ounces cream cheese, Philly of course, room temperature

1 1/2 cups powdered sugar

1 teaspoon vanilla

1 pinch salt

GARNISH
Directions
Preheat oven to 350*.

Grease a jellyroll/sheet pan with crisco solid shortening, then line with parchment and then grease and flour the parchment, tapping out the excess flour. I usually grease the pan heavily, fit the parchment in the pan and smoosh it to coat with crisco, peel up the parchment and turn it upsidedown so the greased side faces up, smoosh it down again and then flour. Be sure to tap out the excess flour.

Cream sugar and butter with paddle until light and fluffy.

Add eggs one at a time, scraping bowl after incorporating.

Add the sour cream and vanilla.

Sift the flour soda and salt together and stir to make sure they are incorporated. Add the ground nuts making sure they are all coated with flour mixture. Scrape down the bowl.

Stir in the mashed bananas and scrape down the bowl.

Spread into the jelly roll pan with an offset spatula getting the batter as evenly distributed as possible.

Bake at 350* for 25 minutes or until your tester comes out clean. My oven is fast and my bars are done in 22 minutes.

Cool in the pan for 15 minutes and then flip onto a cooling rack. Peel the parchment off of the cake carefully; I usually peel it in thirds.

Cool for two hours.

Bars can be cut at this point if you want to freeze them for unexpected company, otherwise just cover them tightly until you are ready to frost with Creamy Cream Cheese Frosting.

FROSTING:.

Whip the heavy cream until stiff peaks form.

In a separate bowl whip the cream cheese, powdered sugar, vanilla and salt.

Carefully fold in the whipped cream and frost your bars and sprinkle with the chopped pecans.

You can frost them a few hours ahead of time but cover and refrigerate them.

Cut into 32 bars and enjoy!