Warm Mushroom & Wilted Spinach Salad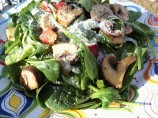 Photo by Nif
Prep Time: 40 mins
Total Time: 40 mins
Servings: 4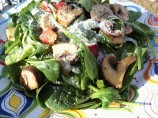 Photo by Nif
About This Recipe
"Growing up we used to have a salad like this all the time, and it was about the only way I would eat spinach. Still love this combination. I think this particular recipe originated from the side of a bag of mushrooms. I have tweaked it over the years because I don't like to cook the spinach, I prefer to just toss the hot hot dressing over the spinach, which just wilts it enough without cooking it. I'm always throwing bread loaf ends into the freezer, this is a good recipe to use some of them in. Toss the final salad with cheese if you like. Beware, your house will smell like vinegar!!"
Ingredients
3/4 lb fresh spinach ( washed and dried)

1/4 red onion, very thinly sliced ( white or sweet onion is good too)

1 red bell pepper, seeded and diced

3 slices whole grain bread, any nutty, grainy bread is good

4 tablespoons olive oil

2 garlic cloves, minced

1 teaspoon dried basil

1 teaspoon dried oregano

3 tablespoons lemon juice

2 teaspoons grainy mustard

1 lb mushroom, sliced

sea salt

pepper

1/2 cup freshly grated parmesan cheese (optional)

1 tablespoon white wine vinegar (optional)

1 tablespoon olive oil (optional)
Directions
Shred the spinach by hand into a large bowl. Add the sliced onion and red pepper to the spinach.

Toast the bread and then cut it into crouton style cubes. Alternatively, you could cut into cubes first and toast it in the oven so they get toasty all over. Do whichever time permits. Add to the spinach.

Warm the oil in a saute pan over medium heat. Add in the garlic and let it cook for a few minutes, being careful not to burn. Stir in the lemon juice, the oregano, basil and mustard, and finally the mushrooms. Let the mushrooms cook for about 5-7 minutes and adjust the seasoning, adding in freshly ground pepper and a little sea salt. It should taste like hot salad dressing at this point. If you prefer it tangier, add more lemon juice or a little wine vinegar.

You should have enough dressing in the pan to fully coat the spinach now, but you can add another tbsp or so of olive oil if you feel like it's not enough. Just make sure it's nice and hot.

Toss the hot dressing over the spinach. Toss well so that the spinach wilts. Toss in the parmesan cheese if desired. Serve warm & enjoy!