Chicken in Coconut Milk (Martinique, Caribbean)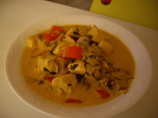 Photo by Sage
Prep Time: 10 mins
Total Time: 55 mins
Serves: 4, Yield: 4 Main-Dish Servings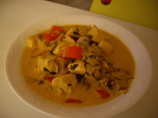 Photo by Sage
About This Recipe
"This is my final recipe to enter from *The Essential Caribbean Cookbook* edited by Heather Thomas & I feel like I'm ending a cruise thru the islands of the Caribbean. Ck out the 2 desserts I entered from this cookbook as either would be great as the finale of this meal. *Enjoy* !"
Ingredients
3 tablespoons peanut oil

1 whole chicken ( Cut in typical quarters or use breasts as desired)

2 onions ( Finely chopped)

2 garlic cloves ( Crushed)

1 red chili pepper ( Fresh & finely chopped)

2 cups coconut milk

saffron strand ( a few)

salt ( To taste)

pepper ( To taste)

2 tablespoons parsley ( Freshly chopped)
Directions
Heat peanut oil in a lrg deep skillet & add chicken quarters (or breasts). Fry gently over moderate heat till all chicken surfaces are golden brown, turning occ in the oil. Remove chicken & set aside.

Add onions, garlic & chile to the skillet & fry gently till soft (about 5 minutes). Do not allow onion to brown ~ it should be only lightly colored.

Return chicken to the skillet & pour in the coconut milk. Sprinkle w/saffron & season w/salt & pepper. Stir well & simmer gently for 30-40 min till the chicken is cooked + tender & the sauce has thickened & somewhat reduced. Serve immediately w/boiled rice, a ladle of sauce over the chicken & rice & sprinkled w/fresh parsley.