Make-Ahead Mexican Chicken (Oamc)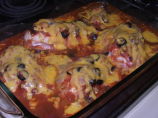 Photo by Greeny4444
Prep Time: 25 mins
Total Time: 1 hr 20 mins
Servings: 4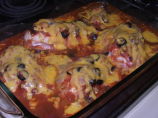 Photo by Greeny4444
About This Recipe
"This recipe is from a Pampered Chef party photocopy. I have always read and heard that it is not best practice to cook chicken in the juice that it marinates in, but I did for this recipe, and I'm still alive. It is not ABSOLUTELY necessary to freeze the chicken after combining all the ingredients in the bag - in fact, for my experience, I just took out frozen chicken breasts and defrosted the chicken in the sauce (in the fridge) and made it the very next night. The freezing part is just an option for busy people to have a convenient ready-made meal waiting in the freezer. I served this with cornbread and steamed veggies, but fiesta-style rice might be nice as well."
Ingredients
2 lbs boneless skinless chicken breasts ( fresh or frozen)

1/2 cup onion, finely chopped

3 garlic cloves, minced

1 (16 ounce) jars salsa ( customize heat to your liking)

1 (2 ounce) cans black olives, sliced and drained

2 cups cheddar cheese, grated
Directions
Write "Mexican Chicken - 400 degrees F for 45 min, then melt cheese on top" on the outside of a Ziploc bag.

Place the chicken in a freezer bag.

Add all of the ingredients to the freezer bag, except the cheese.

Coat the chicken well, squeeze all of the air out of the bag, and freeze.

When you are ready to make the chicken, defrost the chicken in the refrigerator for 24 hours (this also marinates the chicken in the salsa).

Preheat the oven to 400 degrees F (as you have written on your bag, so you wouldn't forget!).

Lightly spray a 9x13 pan with cooking spray. Place the chicken in pan, and pour the sauce over the chicken.

Bake, uncovered, for 45 minutes.

Sprinkle cheddar cheese on the top, and put back into the oven, until the cheese melts (the broiler would be a good alternative for this step too).