Lab-Tested Anti-Cancer Marinade for Your Fav Grilled Meat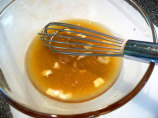 Photo by Outta Here
Prep Time: 10 mins
Total Time: 10 mins
Servings: 4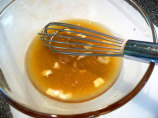 Photo by Outta Here
About This Recipe
"This is a recipe I saved out of a usaweekend magazine years ago. I tidied it away and, of course couldn't find it again, until today. So I thought I would copy it here where I can always find it and you can too. I have put down 4 servings, but of course it will depend on what you'll be grilling."
Ingredients
1/2 cup packed brown sugar

6 tablespoons olive oil

4 tablespoons cider vinegar

3 medium garlic cloves, crushed

3 tablespoons grainy mustard

4 tablespoons lemon juice

1 1/2 teaspoons salt
Directions
Mix all in a large bowl or zip bag. Add the meat of your choice; coat all sides. Marinate 5-10 minutes. (You may soak longer to intensify flavors, but tests show longer marination does not increase anti-cancer activity.) Remove meat from marinade and place on hot grill. Remove meat from grill as soon as it's done: Longer grilling produces more carcinogens (cancer-causing agents).