Sourdough Onion Rye Bread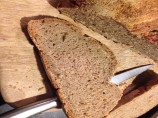 Photo by heena.p.mistry
Prep Time: 3 hrs
Total Time: 3 hrs 50 mins
Yield: 1 loaf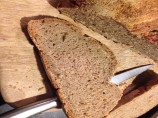 Photo by heena.p.mistry
About This Recipe
"Great deli-style rye bread for sourdough lovers."
Ingredients
473.18 ml proofed sourdough starter

118.29 ml chopped onion

14.79 ml olive oil

29.58 ml butter

59.14 ml water

4.92 ml salt

473.18 ml rye flour

236.59 ml white bread flour
Directions
To proof your starter, feed it with equal parts of flour and water, cover loosely and let it sit overnight or up to 12 hours (longer proof=sourer flavor).

At this point, measure out your 2 cups of starter into mixing bowl and proceed with recipe.

Saute onions in olive oil until they become translucent.

Remove from heat and add butter, water and salt.

Cool to lukewarm (85 degrees F) and stir into starter.

Add the rye flour and mix well.

Add the white flour gradually, until it is too stiff to mix by hand.

Turn onto a floured surface and knead in enough remaining flour until dough is satiny.

Shape into an elongate loaf.

Place on baking sheet and let rise, covered, in a warm place for 1 to 2 hours, or until about doubled in bulk (rising time will vary according to your starter, but it takes longer than breads made with commercial yeast).

Preheat oven to 375 degrees F.

Make diagonal slashes in top of loaf with a razor blade or very sharp knife.

Bake for 40 to 50 minutes.

Remove from baking sheet and cool on wire rack.

This bread could also be made using the dough cycle of your bread machine.