Gluten-Free Tropical Oatmeal Cookies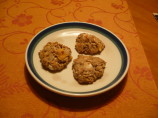 Photo by katii
Prep Time: 5 mins
Total Time: 25 mins
Serves: 20-24, Yield: 20.0 cookies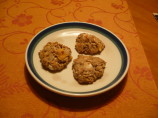 Photo by katii
About This Recipe
"Thick, chewy, and slightly crispy, these exotic-ly flavoured cookies are a delightful treat."
Ingredients
1/2 cup sweet rice flour

1/2 cup potato starch

1/4 cup light stoneground buckwheat flour

1/2 teaspoon baking soda

1/2 teaspoon baking powder ( gluten-free)

1/4 teaspoon salt

1 ripe banana, mashed

1/8 cup unsalted butter, softened

1/2 cup dark brown sugar

1 large egg

1 teaspoon vanilla

1 1/2 cups oats ( gluten-free)

2/3 cup sweetened flaked coconut

1/2 cup yogurt-covered raisins

1/2 cup chopped dried mango
Directions
Whisk first 4 ingredients together; set aside.

Combine wet (next 5) ingredients with a hand mixer on low.

Increase speed to high and beat until fluffy and the color lightens.

Stir the flour mixture into the banana mixture until no flour is visible.

Now add remaining ingredients; stir to incorporate.

Fill cookie scoop with dough.

Drop 2-inches apart onto baking sheet lined with parchment paper.

Bake 11-13 minutes in a preheated 350* oven, until golden but still moist.

Remove from oven; let cookies sit on baking sheet for 2 minutes before transferring to a wire rack to cool.

Enjoy!