Laal Mass (Fiery Lamb Curry)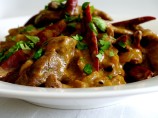 Photo by AmandaInOz
Prep Time: 15 mins
Total Time: 1 hr
Servings: 4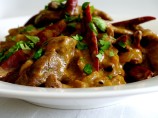 Photo by AmandaInOz
About This Recipe
"Wonderful recipe for Rajasthani curry from Northern India...but very neutral flavour that would appease someone who is reserved about experimenting with exotic foods. To reduce spice, remove seeds from peppers...leave them in for the full effect!"
Ingredients
25 -35 dried red chilies, stems removed

1 1/2 teaspoons cloves

5 1/2 ounces ghee or 5 1/2 ounces vegetable oil

9 ounces plain yogurt or 9 ounces Greek yogurt, whisked until smooth

2 teaspoons cumin seeds, roasted

1 1/2 tablespoons ground coriander

1 teaspoon red chili powder

2 teaspoons salt

3 leaves cinnamon or 3 cinnamon sticks or 3 bay leaves

6 green cardamom pods

5 black cardamom pods

2 1/2 ounces garlic cloves, finely chopped

9 ounces onions, finely chopped

2 1/4 lbs lamb or 2 1/4 lbs goat meat, chopped into large cubes

3 cups lamb stock or 3 cups water

2 tablespoons cilantro leaves, finely chopped
Directions
Optional for extra flair of tadka (or tempering): Set aside 3-4 of dried chillies, 4-6 cloves, and 1 Tbs of ghee or oil.

Soak remained in 1/2 cup of water.

Mix yogurt with cumin seeds, ground coriander, chili powder, salt. Set aside.

Heat rest of ghee or oil in heavy-based pan.

Add remainder of cloves, cinnamon or bay, and the cardamoms.

When they begin to crackle and change color, add garlic and saute for 2 minutes or until garlic is golden brown.

Add onions and cook for 10 minutes or until golden brown, stirring constantly.

Stir in meat and cook for 2-3 minutes.

Drain chillies and add to pan.

Cook mixture for 10-12 minutes or until liquid has evaporated and meat starts to brown.

Add yogurt mixture and cook for 10-12 minutes or until liquid from yogurt has evaporated.

Add stock or water and bring to a boil.

Cover and reduce heat.

Simmer until meat is tender and adjust seasoning to tast.

Remove from heat and keep warm.

Optional for tadka (or tempering): Heat up reserved ghee or oil in ladle over flame or small pan and add reserved cloves and dried red chillies. Cook for 1-2 minutes or until ghee changes color and spice flavors are released. Pour contents over curry.

Sprinkle with chopped cilantro and serve.