Curried Beef Short Ribs (Slow Cooker)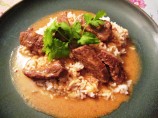 Photo by Nancy's Pantry
Prep Time: 30 mins
Total Time: 6 hrs 30 mins
Servings: 6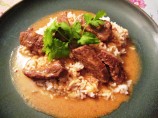 Photo by Nancy's Pantry
About This Recipe
"Now you can have an intensely-flavored exotic meal on the table with very little effort! The lime zest and lime juices brighten the rich flavors, too."
Ingredients
9.85 ml canola oil

907.18 g beef short ribs, trimmed

7.39 ml kosher salt, divided

1.23 ml fresh ground black pepper, divided

78.07 ml minced shallot

44.37 ml minced garlic

44.37 ml minced peeled fresh ginger

59.14 ml water

29.58 ml red curry paste

59.14 ml light coconut milk

14.79 ml sugar

14.79 ml fish sauce

4.92 ml lime zest

14.79 ml fresh lime juice

946.36 ml hot cooked basmati rice
Directions
Heat oil in a large nonstick skillet over medium-high heat. Sprinkle ribs with 3/4 t. salt and 1/8 t. pepper. Add half of the ribs to pan; cook 2 minutes on each side or until browned. Place ribs in an electric slow cooker or crock pot. Repeat procedure with remaining ribs.

Add shallots, garlic, and ginger to skillet; saute 2 minutes. Stir in 1/4 cup water and curry paste; cook 1 minute. Stir in coconut milk, sugar, and fish sauce. Add coconut milk mixture to cooker. Cover and cook on LOW for 6 hours.

Remove ribs from cooker; keep warm. Strain cooking liquid through a colander over a bowl; discard solids. Place a zip-top plastic bag inside a 2-cup glass measure. Pour cooking liquid into bag; let stand 10 minutes (fat will rise to the top). Seal bag; carefully snip off 1 bottom corner of bag. Drain drippings into a small bowl; stopping before fat layer reaches opening; discard fat.

Stir in remaining 3/4 t. salt, remaining 1/8 t. pepper, zest, and juice.

Shred rib meat with 2 forks; discard bones. Serve sauce over ribs and rice.