Lafd Engine Co. No. 28's Vegetarian Black Bean Chili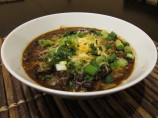 Photo by Dr. Jenny
Prep Time: 45 mins
Total Time: 1 hr 35 mins
Serves: 6, Yield: 10 cups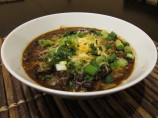 Photo by Dr. Jenny
About This Recipe
"Engine Co. No. 28, is a popular L.A. restaurant located in an historic building, which was constructed in 1912 as a Los Angeles Fire Department firehouse, which housed 2 engine companies. In 1912 LA's population was 400,000; and New Mexico and Arizona were being admitted into the Union. A trip to the restaurant, established in the 1980's has been called a "a big hug from America"; it serves American favorites and some history. Some cooking notes: although you can use canned beans equalling 4 cups, the restaurant uses dried beans starting with a one pound package which will yield about 4 cups of cooked beans. This chili is best when made one day in advance. The flavors develop better. When reheating, add water if necessary and heat slowly to avoid scorching. The recipe had been published in the Los Angeles Times, reader request column."
Ingredients
4 cups black turtle beans, cooked

1 chile ( dried ancho)

1 chile ( dried guajillo)

1 bay leaf

4 teaspoons cumin seeds

4 teaspoons mexican oregano leaves ( dried)

4 teaspoons paprika

1/2 teaspoon cayenne pepper

3 tablespoons olive oil

3 yellow onions, cut in 1/3 inch dice

4 garlic cloves, finely chopped

1/2 teaspoon salt

1 (28 ounce) cans diced tomatoes

1 chipotle chile in adobo, finely chopped

1 tablespoon rice vinegar

1/4 cup chopped cilantro

Garnishes

1 cup green onion, chopped

1 cup sharp cheddar cheese, shredded

1 cup creme fraiche ( or sour cream)

1 cup cilantro leaf
Directions
Roast dried ancho and guajillo chiles on a baking sheet at 375 degrees for about 4 minutes to release their oils.

Place in a blender with 3/4 cups hot water and allow to stand for 5 minutes, then puree; add more water if necessary to make a paste; reserve.

Heat a small heavy skillet over medium heat; and add cumin seeds, stirring until they begin to color.

Stir in oregano leaves, shaking pan frequently so herbs don't burn.

When aroma is strong, remove pan from heat and add paprika and cayenne, stir.

Place mixture in a blender and grind into a coarse powder, set aside.

Heat olive oil in a 6 quart soup pot, over medium heat.

Add and saute onions until tender, add garlic, ground spice mixture, salt and 1/2 ancho and guajillo chile paste and cook 5 minutes.

Add tomatoes, juice and about 1 teaspoon chipotle chile.

Simmer 15 minutes, add cooked black beans and cooking water and cook 10 minutes.

Adjust chiles and salt to taste; add vinegar and chopped cilantro, cook 5 minutes longer.

Adjust seasonings to taste one last time, and serve.

Serve with bowls of chopped green onions, cheddar cheese, creme fraich and cilantro leaves.