Depression Mustard, Egg, Vinegar Sauce - Slaw,lettuce or Pork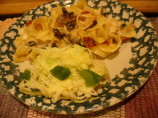 Photo by Montana Heart Song
Prep Time: 5 mins
Total Time: 15 mins
Serves: 4, Yield: 1 cup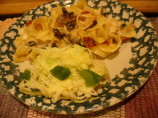 Photo by Montana Heart Song
About This Recipe
"I do not see eggs cooked in any dressing except hard boiled and sliced. This dressing is very adaptable. It is cooled before drizzling on cabbage, warm for lettuce and warm for drizzling on sliced pork This is simple and cheap. Thus the name and in this economy we need inexpensive recipes. I triple this for large portion of potato salad also after you have salted and peppered the potatos and hard boiled eggs and onions and added celery seed."
Ingredients
2 large eggs, beaten

59.14 ml water

59.14 ml cider vinegar or 59.14 ml white vinegar

2.46 ml yellow mustard

2.46 ml salt

9.85-14.78 ml sugar

14.79 ml milk, see note (optional)
Directions
In medium saucepan, beat two eggs and water with wire wisk.

Add vinegar and mustard, salt and sugar. Use 2 tsps sugar at first.

Wisk the dressing until thickened on low to medium heat.

1. Cool to put on cabbage and vegetables or bacon.

2. Warm to mix with lettuce and green onions and bacon.

3. Warm to serve over sliced pork loin or roast.

Note:Cider Vinegar is stronger than White Vinegar and you might want to use the last teaspoon of sugar or add more sugar depending on your taste.

Note:To leave a less stronger taste of mustard, add a tblsp. of milk.