Baked Polenta Carrot Casserole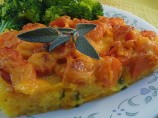 Photo by PaulaG
Prep Time: 25 mins
Total Time: 45 mins
Servings: 2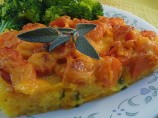 Photo by PaulaG
About This Recipe
"A greeting from the easter bunny. :) This is a wonderful moist casserole dish with lots of vitamins and flavour. This tasty twist on your ordinary carrot dish is easy and rather quick to prepare as well."
Ingredients
300 ml vegetable broth

150 ml milk

125 g polenta

500 g carrots

1 tablespoon butter

100 g sour cream or 100 g yoghurt

6 leaves sage, minced ( the original recipe called for parsley, but I like sage better)

100 g cheese, grated

1 pinch sugar

salt and pepper
Directions
In a pot combine vegetable broth and milk and bring to a boil. turn off heat, stir in polenta and cook until thickened (abut 3-5 minutes). Set aside to thicken further.

Clean, wash and peel the carrots. Slice lenghtwise.

Heat butter in a skillet and add carrots. Saute for some minutes, then add 5 tbs of water and cook covered on medium heat for another ten minutes until soft. Season with sugar, salt and pepper.

Add sour cream or yoghurt, sage and half of the cheese to the polenta and stir to combine. Season with salt and pepper to taste.

Pour into a casserole dish (about 20X12 cm) and top with the carrots (I used their liquid too since it was full of flavour, but that way the casserole may get a bit soggy).

Sprinkle with remaining cheese and bake in the preheated oven at 200°C (~400°F) for 20 minutes.

Let stand for about 5 minutes until polenta has set and can be sliced.