Schezwan or Szechuan Spicy Hot Chicken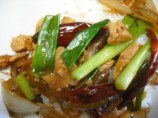 Photo by Tallie in Pacific NW
Prep Time: 10 mins
Total Time: 30 mins
Serves: 6, Yield: 1.5 cups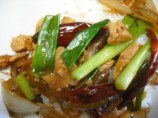 Photo by Tallie in Pacific NW
About This Recipe
"After sifting thru several recipes and much trial and error, I created my own version of restaurant quality Schezwan Chicken, w/the help of a bottle or two. Beware! It's S-P-I-C-Y!"
Ingredients
2 boneless skinless chicken breasts, thinly sliced

1 -2 teaspoon peanut oil

1 yellow sweet onion, sliced

14 -16 dried red chili peppers

2/3 cup house of tsang szechuan spicy stir-fry sauce

3 tablespoons heavenly chef hunan red chili sauce

2 bunches scallions, cut into 1 1/2 in pieces

2 teaspoons ground black pepper

2 1/2 cups instant rice

2 1/2 cups water
Directions
Heat oil on high in a skillet or wok.

Add chicken and stir-fry for 5 minutes.

Add yellow onion and red chili peppers; continue to cook on high for additional 5 minutes, stirring continuously.

Add Tsang Schezuan Spicy Stir-Fry Sauce and Heavenly Chef Hunan Red Chili Sauce and stir-fry for 2-3 minutes.

Add scallions and ground black pepper. Cook for an additional 2 minutes.

Serve over white or brown rice.