Penne San Remo (Inspired by Buca Di Beppo)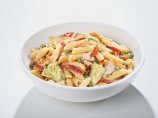 Photo by Chef Vince Ang
Prep Time: 15 mins
Total Time: 35 mins
Servings: 4-6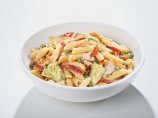 Photo by Chef Vince Ang
About This Recipe
"Delicious dish served at Buca Di Beppo. Tender chicken breast, artichoke hearts, sun-dried tomatoes and green peas tossed with imported Italian penne pasta in a white wine cream sauce. Note, since Buca is a restaurant, they use a pre-made Alfredo Sauce, and pre-cooked, breaded chicken breasts. This recipe reflects a more traditional, home-style cooking as opposed to the streamlined restaurant approach. Also at Buca, the chicken is added earlier in the cooking process (along with the artichokes and the sun-dried tomatoes.) They can do this because they use pre-made Alfredo sauce. Because this recipe involves making the Alfredo sauce, or white-wine cream sauce from scratch, it's better to add the chicken pieces at a later step so that the chicken retains some crispness and keeps from getting too mushy."
Ingredients
16 ounces penne pasta

1 lb boneless skinless chicken breast

1 1/2 tablespoons flour ( for thickening the sauce)

1 cup flour ( for chicken breading)

2 teaspoons italian seasoning ( you may substitute a combo of basil, oregano, rosemary, thyme, marjoram, garlic)

1 teaspoon salt

1 teaspoon black pepper

3 tablespoons olive oil ( for sauteeing the chicken)

1 tablespoon butter

3 tablespoons olive oil ( for the sauce)

2 tablespoons fresh garlic ( minced)

3/4 cup marinated artichoke ( chopped into quarters)

1/2 cup green peas ( cooked)

3/4 cup sun-dried tomato ( julienne-cut)

1/3 cup white wine

1/2 cup heavy cream

3/4 cup parmesan cheese

1 pinch kosher salt ( or amount according to taste. Table salt works fine)
Directions
Cook Penne pasta according to packaging instructions (add salt.) Drain and set aside.

Use a meat tenderizer to pound the meat to an even thickness (about 1/2 to 3/4 inch.) Cut the chicken breast in half, length wise.

For breading the chicken breasts, combine flour, italian seasoning, salt, black pepper. Dredge chicken breasts on both sides with the flour mixture.

In a large skillet, over medium heat, heat olive oil and butter then sauté the chicken on both sides, 3-5 minutes per side or until it turns golden brown.

Remove the chicken from the pan and slice chicken into thin, bite-sized pieces about (3/8" thick.) Set aside. Remove as much of the cooked oil from the skillet and replace with fresh olive oil reserved for the sauce.

Add minced garlic, sun-dried tomatoes, and artichokes. Stir for about 2 minutes.

Sprinkle the pan with the flour reserved for thickening the sauce. Stir until all ingredients are covered with flour, about 30 seconds.

Add the white wine and bring it to a boil. Once boiling, lower the heat to low medium and simmer for 2-3 minutes.

When much of the wine has evaporated or the sauce starts to thicken,raise the heat to medium and add the cream and stir for 30-45 seconds until well incorporated.

Add the parmesan cheese and stir to incorporate all the ingredients (cheese melts into the sauce).

Add the green peas and stir for about three minutes.

Add the sliced chicken and the pasta to the pan and mix with the sauce. Make sure the pasta is thoroughly coated with the sauce. Enjoy.