5 Cheese Baked Macaroni and Cheese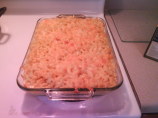 Photo by S3b4s
Prep Time: 20 mins
Total Time: 50 mins
Servings: 6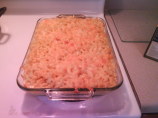 Photo by S3b4s
About This Recipe
"I've adapted this recipe off of others after not finding exactly what I want in the ones I've tried. Try not to use extra sharp or aged cheeses, they don't melt well and contribute to the grainy texture everyone talks about in macaroni and cheese. Also, make sure all your cheese is grated and macaroni is boiled and drained before finishing the cheese sauce. Overcooking or letting it sit too long can also make the texture grainy."
Ingredients
Macaroni

3 tablespoons unsalted butter

3 tablespoons flour

2 cups hot milk

1 cup grated cheddar cheese

1/4 cup grated colby cheese

1/4 cup grated monterey jack cheese

1/4 cup grated mozzarella cheese

1/4 cup grated monterey jack pepper cheese

1 teaspoon kosher salt ( or to taste)

1/2 teaspoon pepper

1 lb elbow macaroni

1/2 cup mozzarella cheese, cubed small

Topping

2 tablespoons melted unsalted butter

1 cup breadcrumbs or 1/2 cup grated cheese
Directions
Grease a 2 quart casserole dish, and preheat oven to 400 degrees.

Cook macaroni to desired tenderness and drain, set aside.

Combine melted butter and breadcrumbs (if using), set aside.

Melt butter in saucepan over medium heat, whisk in flour and cook, whisking constantly for 2 to 3 minutes,.

Add hot milk slowly, whisking constantly, and cook for 3 to 5 minutes, until thickened.

Add the grated cheeses to the sauce in small batches, whisking until each one is melted completely.

Remove from heat, add salt and pepper, and taste to see if it needs more seasoning.

Combine noodles and cheese sauce and mix well, then mix in cubed cheese.

Pour into casserole and top with breadcrumbs or cheese.

Bake for 30 minutes or until well browned.