Dreamy Chocolate Peanut Bars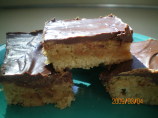 Photo by CoffeeB
Prep Time: 25 mins
Total Time: 40 mins
Yield: 3 dozen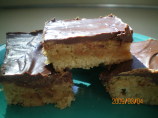 Photo by CoffeeB
About This Recipe
"From the Pillsbury 7th Grand National contest-winners cookbook: "Peanut butter and chocolate layers on a butterscotch cookie base--a rich, candy-like bar cookie." Mrs. Ernest P. Fletcher won for this recipe. It is indeed dreamy, a heavenly combination of semi-sweet chocolate, creamy peanut butter, and buttery deliciousness!"
Ingredients
1 1/3 cups flour

1 teaspoon baking powder

1/2 teaspoon salt

1/3 cup shortening or 1/3 cup butter or 1/3 cup margarine, melted

1 cup brown sugar, firmly packed

1 teaspoon vanilla

2 eggs

1/4 cup peanuts, chopped (optional)

1/2 cup peanut butter

1 tablespoon cream

1 cup semi-sweet chocolate chips

1 tablespoon shortening
Directions
Stir together flour, baking powder, and salt.

Blend brown sugar into melted shortening. Cool slightly.

Add to brown sugar/shortening mix: vanilla, eggs (one at a time), beating well after each egg. Add the dry ingredients all at once; blend well.

Spread into well-greased 9x9 or 11x7-inch pan.

Bake in moderate oven (375 F) 15 to 18 minutes until it springs back when touched lightly in the center. Cool slightly (about 5 minutes).

Spread with Peanut Butter Topping, then with Chocolate Topping (see below). If desired, sprinkle with chopped peanuts. Cool; cut into bars or squares.

Peanut Butter Topping: Heat peanut butter with cream in microwave on low heat, stirring til smooth and blended. Do not overheat.

Chocolate Topping: Melt chocolate chips with shortening in microwave on very low heat, stirring just until melted. Do not overheat.