Pita Pizza Pocket- Weight Watchers (Ww) 4pts!!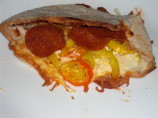 Photo by Mayniac May Family
Prep Time: 5 mins
Total Time: 15 mins
Servings: 1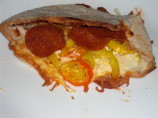 Photo by Mayniac May Family
About This Recipe
"This recipe is 4 pts. Please remember to not go off of stats on recipezaar because you have to choose the right ingredients to make it. Here is a break down... Pita- 1 pt : Salad pita pocket Pepperoni- 1 pt : 5 slices (if you want less pts, use turkey, I didn't. I don't like it.) Cheese- 1 pt : fat free mozerella Sauce- Ragu has the least amt of calories and fat that I have found use whatever vegetable toppings you want. I listed what I used below. When you add everything up and put it into ww calculations it comes up with 4 pts. (I guess everything else gets you one more pt.)"
Ingredients
1 pita pocket, salad pockets

5 slices pepperoni

1/4 cup pizza sauce, Ragu

1/4 cup mushroom

1/4 cup banana pepper

1/4 cup mozzarella cheese, fat free
Directions
Preheat oven to 350 (I used toaster oven, temperature in other ovens may vary).

Put sauce in Pita Salad Pocket. Try to get it all on the inside.

Place all ingredients/toppings remaining, making sure to top with cheese.

**hint. I used a separate piece of alumunim foil to slightly prop up the open side so all the cheese didn't run out while baking it.

Bake at 350 around 8 to 10 minutes, or until cheese is melted.

** I have made with onions, green peppers as well. You can add crushed red pepper or jalapenos if you like pizza hot.