Unstuffed Cabbage Roll Soup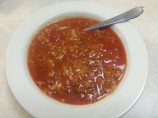 Photo by Deb_Leger
Prep Time: 15 mins
Total Time: 45 mins
Servings: 8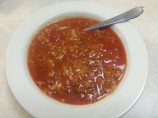 Photo by Deb_Leger
About This Recipe
"This recipe came about after a failed casserole recipe turned into an amazing soup! Who says failure is a bad thing? You could even make this vegetarian/vegan by changing the meat to a veg friendly option and using a veg broth. Hope you enjoy this too!"
Ingredients
1 medium cabbage ( shredded and bagged cabbage or coleslaw mix works great and saves this step)

16 ounces ground turkey (TVP, veggie crumbles etc.) or 16 ounces lean ground beef ( TVP, veggie crumbles etc.)

1 cup yellow onion, chopped

2 garlic cloves, minced ( more if you like)

1 eggs, beaten or 1 egg substitute

1 (14 ounce) cans stewed tomatoes

8 ounces chicken broth or 8 ounces vegetarian chicken broth

12 ounces vegetable juice, like V8 ( we like to use the hot & spicy here)

1 tablespoon brown sugar

1/4 teaspoon cayenne ( more if you like) (optional)

1 tablespoon Worcestershire sauce ( veg friendly can be used)

1/2 teaspoon nutmeg, fresh ground is best

1 bay leaf

salt and pepper, to taste

1/2 cup rice, raw
Directions
Saute onion and garlic in a large skillet for about a minute. Add meat and cook, stirring often, until meat is no longer pink. Drain well and return to pan.

Meanwhile, remove tough outer leaves from cabbage & remove core. Shred cabbage if not using a bag of shredded cabbage.

Add cabbage into pan and saute with the meat just until the cabbage begins to soften.

Add remaining ingredients and bring to a boil. Reduce heat and allow to simmer until rice is done. You can keep this on low for a long time if you like or even toss everything into a crock pot and keep on low.

To serve, ladle into bowls and garnish with a dollop of sour cream if desired. Remember- whoever finds the bay leaf is the lucky one! Just do not eat it!