Low Budget Pasta W Cheesy Tomato Sauce Casserole Style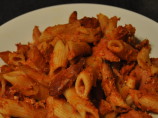 Photo by Chef #1166907
Prep Time: 5 mins
Total Time: 25 mins
Servings: 4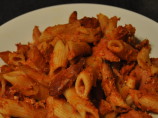 Photo by Chef #1166907
About This Recipe
"Super easy and budget wise Pasta Dish in a thick cheesy tomato sauce with pieces of sauteed hot dogs."
Ingredients
16 ounces pasta ( Rigatoni or Penne or any tube shaped pasta)

52 ounces of your favorite canned tomato sauce ( 2 x 26 oz cans)

1/8 cup water

1/8 cup half-and-half or 1/8 cup milk

1/4 cup onion, diced

6 hot dogs, sliced or 6 equal amount kielbasa, cut in half and sliced

1/4 cup shredded cheese ( e.g cheddar, mixed)

1 tablespoon olive oil

butter

4 slices bread

salt

pepper

basil

oregano

instant broth
Directions
Dice onion and saute in 1 tbs olive oil in a pot, large enough to also boil the pasta inches.

Ad uncooked pasta, tomato sauce, water and half and half.

Season with salt, pepper, basil, oregano and some instant broth to taste.

Cover and bring to a boil. Reduce heat and stir frequently.

While pasta and tomato sauce cook, slice hot dogs into 1/4 inch slices and saute in some butter until browned on both sides and ad too the pasta/sauce mix, continue to cook until pasta reaches preferred consistency. If necessary, ad some more liquid (e.g. water, half and half) should pasta absorbs too much sauce.

Right before serving, stir in shredded cheese.

Serve with buttered slices of bread.

The dish should have the overall texture of a baked casserole: thick, the sauce will be mostly absorbed by the pasta. Leftovers heat up great in the micro wave the next day.