Fat Free Blueberry Cottage Cheesecake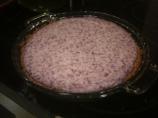 Photo by Ian Magary
Prep Time: 15 mins
Total Time: 1 hr 15 mins
Serves: 8, Yield: 1 pie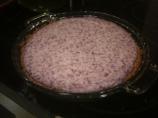 Photo by Ian Magary
About This Recipe
"I love cheesecake and wanted to try something new with all of the blueberry I had in my fridge and realized I could make cheesecake with cottage cheese and cut the calories in half. It tastes so good and you'll never know its made from cottage cheese. My boyfriend didn't even realize haha."
Ingredients
1 cup fat-free cottage cheese

1/2 cup plain fat-free yogurt ( any flavor, I like cheese cake)

1/2 cup skim milk

1 1/4 cups blueberries

1/2 cup sugar or 1/2 cup sugar, suppliment

1/4 cup applesauce

1 cup reduced fat graham cracker

1/4 cup i cant believe its not butter-flavored cooking spray ( or real butter)
Directions
Preheat oven to 375 degrees.

heat up butter and mix it with crushed graham crackers in a pie mold and press down firmly.

after crust is made bake it for about five minutes or until browned.

in a blender, mix cottage cheese, 1/2 cup blueberries, 1/4 cup splenda, milk, and yogurt until all cottage cheese cournals are smooth.

pour mixture into pie crust and bake for 45 minutes.

blend the rest of the berries, 1/4 splenda and apple sauce to make topping, pur over cake and bake for another five minutes.

let cool and refidgerate.

enjoy.