Sweet & Savory Microwave Peanut Brittle With Cinnamon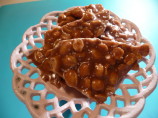 Photo by cookiedog
Prep Time: 5 mins
Total Time: 15 mins
Serves: 6, Yield: 4 cups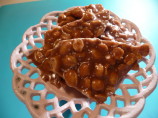 Photo by cookiedog
About This Recipe
"crunchy peanut brittle with hint of cinnamon and topped with crunchy kosher salt (for 900 watt microwave and variation for other watt ovens)"
Ingredients
1 1/2 cups dry roasted peanuts

1 cup white sugar

1/2 cup light corn syrup

1 pinch table salt

1 tablespoon butter

1 teaspoon vanilla extract

1 1/2 teaspoons cinnamon

1 teaspoon baking soda

kosher salt, for topping
Directions
This recipe is for 900 watt microwave. For variation use a guide of same ingredients and adjust cooking time to 45-50 seconds per 100 watts of your microwave.

Grease or butter a cookie sheet (TIP) Spray measuring cup with pam to measure corn syrup and spray spatula also to spread on cookie sheet.).

in 2 quart bowl or casserole dish add sugar, nuts, syrup and salt, mix until most of sugar is combined. Cook on high for 7 minutes. (should be bubbly and peanuts golden).

Stir in butter, vanilla and cinnamon, cook on high 3 more minutes.

Quickly, stir in baking soda until foamy (don't over stir, it needs to stay hot to spread).

Pour onto greased cookie sheet and spread out. Sprinkle gently (or more to taste) with Kosher salt and let cool for 1 hour. Break apart into peices and store in airtight container. (freezes well in ziploc bag for several months).