Healthy Walnut (Or Chocolate) Cranberry Oatmeal Chewy Cookies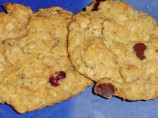 Photo by I Can't Believe It's Healthy
Prep Time: 1 hr
Total Time: 1 hr 15 mins
Servings: 24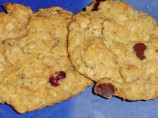 Photo by I Can't Believe It's Healthy
About This Recipe
"These are such unique cookies! These cookies become very thin when they cook, and the addition of brown rice syrup (better for you then sugar... has complex carbs to keep you fuller longer) makes the cookie very chewy and almost slightly sticky. You have never tasted anything like it!"
Ingredients
1/3 cup margarine

1 tablespoon smooth applesauce

2/3 cup brown rice syrup

2 egg whites

1/2 cup firmly packed brown sugar

1/2 teaspoon vanilla extract

1/2 cup all-purpose flour

1/2 cup whole wheat flour

1/2 teaspoon cinnamon

1/2 teaspoon baking soda

1/4 teaspoon salt

1 cup rolled oats, quick cooking

3 -4 tablespoons chopped walnuts or 3 -4 tablespoons miniature chocolate chips

3 -3 1/2 tablespoons craisins ( or raisins)
Directions
In a dry saucepan on medium, toast the walnuts (if using) and oats together until browned and fragrant, stirring occasionally. Set aside.

In a large bowl, beat margarine(at room temp) and applesauce with brown sugar until light and fluffy (with electric beaters).

add egg whites, brown rice syrup, and vanilla and beat until smooth, about a minute.

In a smaller bowl, combine flours, cinnamon, baking soda, and salt.

Mix into creamed mixture. Stir in oats, walnuts (or chocolate chips), and craisins.

Chill dough for 30 minutes.

Drop dough on parchment paper-covered cookie sheet (dont flatten tops).

Bake at 330° F 12-15 minutes or until spread out and very lightly browned. They will be flat and the tops will have small bubble pockets, and though they may look soft and not done, they are! Allow cookies to cool slightly then place cookies on cooling rack. Use a very good spatchula or else they will be tricky to get off the pan without breaking!

Cookies will be quite delicate and slightly sticky (especially when hot), so when you store them, be sure their edges arn't touching eachother and use wax paper to line between the layers. ENJOY!