Grilled Chicken and Ratatouille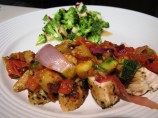 Photo by loof
Prep Time: 25 mins
Total Time: 25 mins
Servings: 6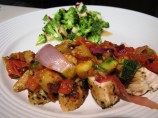 Photo by loof
About This Recipe
"A light, healthy, and fresh-tasting recipe from The Bon Appétit Test Kitchen and printed in "Bon Appétit Magazine" (June 2008). Make extra veggies; the leftovers are fabulous warm or cold."
Ingredients
2 medium zucchini, halved lengthwise

1 medium Japanese eggplant, halved lengthwise ( can also use regular Italian eggplant)

1 red bell pepper, cut into 1-inch-wide strips

1 red onion, peeled, cut into 1/2-inch-wide wedges ( leave root end intact)

2 medium tomatoes, halved crosswise

2 tablespoons olive oil

6 boneless skinless chicken breast halves ( about 3 pounds)

1/3 cup thinly sliced basil

1 1/2 teaspoons red wine vinegar or 1 1/2 teaspoons balsamic vinegar
Directions
Prepare barbecue (medium-high heat). Place first 5 ingredients in large bowl. Drizzle oil over and sprinkle generously with salt and pepper; toss to coat. Grill vegetables until tender and slightly charred, about 4 minutes for peppers and 7 minutes for remaining vegetables. Transfer to cutting board. Place chicken breasts in same large bowl. Turn to coat with any remaining oil in bowl. Sprinkle chicken with salt and pepper. Grill chicken, covered, until cooked through, about 6 minutes per side. Let stand 5 minutes.

Meanwhile, coarsely chop vegetables and transfer to another large bowl. Add basil and vinegar and toss to coat. Season with salt and pepper. Slice chicken crosswise into 1/2-inch-thick slices; serve with ratatouille.