Cuban Style Pot Roast (Boliche)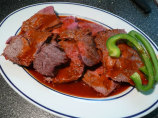 Photo by Mikekey
Prep Time: 10 mins
Total Time: 1 hr 10 mins
Serves: 8, Yield: 1 pot roast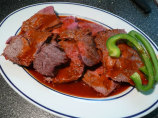 Photo by Mikekey
About This Recipe
"This pot roast cooks for about an hour and rests for 30 minutes, so you have plenty of time to prepare whatever you want to serve with it."
Ingredients
1 lb onion, sliced thin

2 green bell peppers, sliced

1 teaspoon fresh ground black pepper

2 garlic cloves, minced

1 teaspoon dried oregano or 1 tablespoon fresh oregano, chopped

4 bay leaves

1/4 cup vegetable oil

5 lbs beef beef eye round

1/4 cup dry red wine

2 tablespoons vinegar

4 cups chicken broth

2 cups tomato puree

2 garlic cloves, chopped

salt

1/2 teaspoon ground cumin
Directions
Place the onions and bell peppers in a bowl and add the black pepper, garlic, oregano and bay leaves. Let marinate for 30 minutes. Preheat the oven to 350 degrees F.

Heat the oil in a large oven-proof cooking pot like a Dutch oven. When the oil is hot, add the vegetable mixture from bowl and saute until soft. Add the roast and brown on all sides for 5 minutes, or so. Add the wine and vinegar and allow to reduce briefly. Add 2 cups of the broth and all the remaining ingredients. Bring to a boil, then place in the oven for 1 hour.

Check at intervals, adding the remaining 2 cups of chicken broth, if needed. Remove the meat from the oven and let sit for 30 minutes. Strain the sauce. To serve: slice the meat about 3/4-inch thick and serve with the sauce.