Torta Salata Di Farro - Savory Farro Pie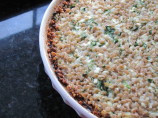 Photo by JanuaryBride
Prep Time: 0 mins
Total Time: 0 mins
Servings: 6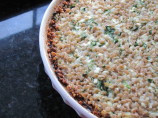 Photo by JanuaryBride
About This Recipe
"A traditional dish of the hills around Lucca. It calls for cracked farro, which cooks faster. I first heard of farro from Giada De Laurentiis, who made a salad from it (a recipe which I've posted). Farro is similar to wheat berries."
Ingredients
10 ounces cracked farro

1 cup fresh ricotta ( 8 ounces)

3 large eggs

1/4 cup freshly grated parmigiano

1/4 cup chopped parsley

1/4 teaspoon freshly grated nutmeg

salt & pepper

to taste cold butter

to taste dry breadcrumbs
Directions
Preheat oven to 370 degrees F (180 C).

Prepare the farro: Wash it well, picking out impurities such as bits of chaff, pebbles, or bad grains. In a medium saucepan, combine the farro with about 4 cups water and 2 teaspoons salt, then turn heat to high and bring it all to a boil.

When it has come to a boil, reduce the temperature to medium low, cover, and let simmer until the farro is tender, about 30 minutes.

Remove from heat, drain mixture well, then pour it all into a large ceramic or porcelain bowl and set aside to let cool.

When cooled, combine it with the remaining ingredients except the butter and the bread crumbs.

Use the butter and bread crumbs to lightly grease and coat a 9-inch pan, pour the farro mixture into it, and bake it in a 370 F (180C) oven for about 40 minutes.

This will work well as a second course, with a tossed salad.

Recipe adapted from Giada De Laurentiis' method of cooking farro and from a recipe in Luciano Migliolli's "Il Farro e le sue Ricette." Farro: Grain of the Legions Grano Farro has a long and glorious history - it is the original grain from which all others derive, and fed the Mediterranean and Near Eastern populations for thousands of years; somewhat more recently it was the standard ration of the Roman Legions that expanded throughout the Western World. Ground into a paste and cooked, it was also the primary ingredient in plus, the polenta eaten for centuries by the Roman poor.