Very Quick Butter Chickpeas (Vegetarian Butter Chicken!)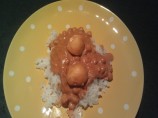 Photo by Satyne
Prep Time: 5 mins
Total Time: 15 mins
Servings: 3-4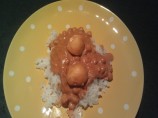 Photo by Satyne
About This Recipe
"The humble chickpea is low in fat, rich in fibre, complex carbohydrate, and protein, and is a good source of calcium, iron and B vitamins. I'm not a huge fan of canned soups, but they do have their uses sometimes! This sauce could be used with anything, but goes well with chickpeas and new potatoes. Paneer cheese is also delicious. From The Very Easy Vegetarian Cookbook, Alison & Simon Holst."
Ingredients
1 medium onion

2 tablespoons canola oil

1 teaspoon minced garlic

2 teaspoons curry powder

2 teaspoons garam masala

1 teaspoon ground ginger

1 teaspoon ground cumin

300 g condensed tomato soup

1/2 cup cream

300 g chickpeas

200 g boiled baby potatoes, cubed

1 -2 tablespoon chopped coriander

1/2 teaspoon salt
Directions
Chop the onion very finely while the oil heats in a large pan.

Add the onion and garlic and cook, stirring frequently, until the onion is starting to brown.

Stir in the curry powder and garam masala, ginger and cumin. Continue to cook, stirring frequently, for one to two minutes longer.

Tip in the soup, cream, drained chickpeas and potatoes, and leave the sauce to simmer for about five minutes.

Add the chopped coriander and salt to taste.

Serve over steamed basmati rice.

Enjoy!