Slow Cooker Red Lentil Dahl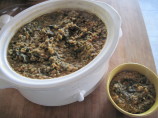 Photo by Chef #1800139168
Prep Time: 15 mins
Total Time: 8 hrs 15 mins
Servings: 4-6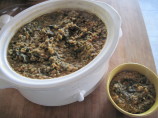 Photo by Chef #1800139168
About This Recipe
"my attempt to make dahl in my crock pot/slow cooker. i love dahl but the stovetop fashion is time consuming. NOTE that all spices and seasonings here are more or less to taste. you could just stick to garlic, ginger, curry powder & some red pepper flakes to keep things simple. we'll see how this turns out..."
Ingredients
2 cups dried red lentils, rinsed & sorted

3 -4 garlic cloves, minced

1 -2 tablespoon fresh ginger, finely chopped

1 (10 ounce) packages frozen spinach

1 tablespoon curry powder ( to taste)

1 teaspoon ground cumin ( to taste)

1 teaspoon ground coriander ( to taste)

1 teaspoon yellow mustard seeds ( to taste)

red pepper flakes ( to taste)

ground cinnamon ( to taste)

4 cups low sodium vegetable broth

water, as needed
Directions
toss it all in there and cook on low 6-8 hours. check water level a few times to make sure lentils don't burn, add water if needed.