Grilled Peppered Raspberry Glazed Pork Tenderloin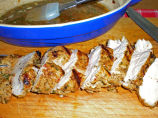 Photo by gemini08
Prep Time: 10 mins
Total Time: 35 mins
Servings: 8-10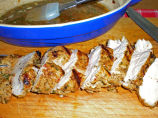 Photo by gemini08
About This Recipe
"I needed something quick for dinner and here's what I came up with from things in my pantry. To change things up a bit I used peppered raspberry preserves in the glaze. Incredible!! I grilled this indoors on my cooktop grill or it can also be baked in the oven and glazed the last several minutes of cooking. Here are a couple websites in case you have trouble finding peppered raspberry preserves and tangerine balsamic vinegar: http://www.chefsresource.com/hot-raspberry.html http://www.amazon.com/dp/B000PYBUJG/ref=asc_df_B000PYBUJG697635?smid=A1UDJLN42XMTIJ&tag=dealt155176-20&linkCode=asn http://www.fustinis.com/store/products.asp?cat=11&pg=3"
Ingredients
4 (1 -2 lb) pork tenderloin

2 teaspoons salt

1 teaspoon pepper

1 tablespoon olive oil

14 ounces peppered raspberry preserves

3 tablespoons Dijon mustard

2 teaspoons prepared horseradish

3 teaspoons tangerine balsamic vinegar

2 teaspoons lemon juice
Directions
Brush pork with oil and sprinkle with salt and pepper. Let meat come to room temperature (about 30 minutes out of refrigerator). Make glaze: combine remaining ingredients in saucepan and bring to boil. Reduce heat and allow to thicken slightly. Heat grill or grill pan to medium high heat. Grill meat and cook to internal temperature of 155 degrees F (approx. 25 minutes). Glaze meat the last 5-10 minutes of cooking time. Let meat rest 5-10 minutes and slice.