Pot Roast in Sweet and Sour Sauce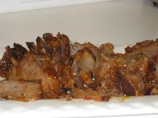 Photo by FrenchBunny
Prep Time: 25 mins
Total Time: 3 hrs 25 mins
Servings: 8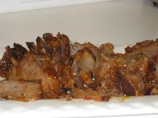 Photo by FrenchBunny
About This Recipe
"Prep time includes browning the roast, this is started on top of the stove then finished cooking in the oven --- the exact amounts really do not matter for this recipe I just eyeball all ingredients, start with 1/3 cup brown sugar and add in more if needed while cooking, when I make this I find that for my taste I need more than 1/3 cup --- the cayenne was left as optional if you like some heat then add it in and adjust to taste or you may used crushed chili flakes, there is tons of sauce to this so there is no need to double the amounts --- cooking time is only estimated it will depend on the size of your roast, this will also work well using a pork roast."
Ingredients
6 tablespoons oil ( or as needed to coat the bottom of the pot)

1 (3 -4 lb) boneless beef chuck roast

seasoning salt or white salt

fresh ground black pepper

2 medium onions, chopped

1 small green bell pepper, seeded and chopped (optional)

SAUCE

1 (8 ounce) cans tomato sauce

1 cup beef broth or 1 cup water

1/4 cup lemon juice ( no substitutes, can use bottled lemon juice)

1/2 cup ketchup

1/3-1/2 cup brown sugar ( or to taste)

1 1/2 teaspoons garlic powder

1 tablespoon Worcestershire sauce

1 pinch cayenne pepper ( add in for some heat and adjust to taste) (optional)

1 teaspoon liquid smoke (optional)
Directions
Set oven to 325 degrees F.

In a bowl combine all the sauce ingredients together until smooth and well combined, start with 1/3 cup brown sugar if you prefer a sweeter taste you can always add in more during cooking.

Heat oil in a 5-quart Dutch oven over medium-high heat (use enough oil to cover the bottom of your Dutch oven).

Season the roast liberally with seasoned salt and fresh ground black pepper; add to the pot and brown well on all sides, then remove to a plate or bowl.

Add in onions and bell pepper; saute for about 3-4 minutes or until softened).

Add in the sauce; bring to a medium simmer.

Add the roast back to the pot and turn a few times to coat in the sauce.

Cover with a lid then transfer to oven.

Cook for about 3 to 3-1/2 hours turning the roast over every hour of cooking or you may turn halfway through cooking (cooking times will vary depending on the size of your roast).

Remove the roast to a cutting board and slice thinly, transfer to a serving platter.

Remove any fat the has accumulated on top of the sauce, then drizzle some on top of the beef slices.

Serve remaining sauce on the side.