George's Oven-Fried Chicken by Judy- Jude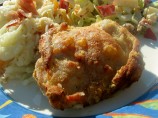 Photo by lazyme
Prep Time: 15 mins
Total Time: 1 hr 15 mins
Servings: 4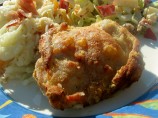 Photo by lazyme
About This Recipe
"I have made this recipe in the past and I am posting it in honor of Judy- Jude. Also posting for the "Cookathon" in memory of her (Jan, 09). She had many favorite recipes, however, this one by her father she really liked. I refer to it as KFC Judy D's Father's Recipe. It is very good."
Ingredients
2 1/2-3 lbs broiler-fryer chickens, cut up

1/4 cup shortening

1/4 cup butter or 1/4 cup margarine

1/2 cup gold medal flour

1 teaspoon salt

1 teaspoon paprika

1/4 teaspoon poultry seasoning

1/4 teaspoon pepper
Directions
Heat oven to 425 degrees.

Wash chicken and pat dry.

Mix flour, salt, paprika, poultry seasoning and pepper.

Place in a 13"x9"x2" pan with shortening & butter in the oven, melt the shortening & butter.

Place chicken skin side down in melted shortening & butter.

Bake uncovered for 30 minutes.

Turn chicken; cook 30 minutes longer or until thickest pieces are fork tender and juices run clear when pierced.

NOTE:. This recipe is basically written as is, which I had received from Judy. She has also substituted skinless chicken pieces. And I have often added more spices, to make it similar to Kentucky Fried Chicken -- and used boneless chicken as well. Enjoy, it is a very good recipe and a withh a nice KFC taste as well.