Hot Buttered Bourbon (With Nutmeg Butter)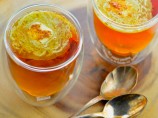 Photo by May I Have That Recipe
Prep Time: 5 mins
Total Time: 10 mins
Serves: 2, Yield: 2 drinks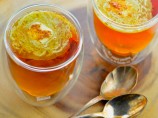 Photo by May I Have That Recipe
About This Recipe
"Hot buttered bourbon is usually made with plain water, and sweetened, but this recipe uses cider instead. From the book, "Drinks to Warm Body & Soul", this drink can also be made with rum or brandy instead of bourbon. Time does not include time used to make Nutmeg Butter."
Ingredients
1 1/2 cups apple cider or 1 1/2 cups water, plus

2 tablespoons brown sugar

2 cinnamon sticks

1 teaspoon allspice berry

1/2 teaspoon whole cloves

1/4 teaspoon ground ginger

3/4 cup Bourbon

NUTMEG BUTTER (use 2 slices)

8 tablespoons salted butter, at room temperature

1/4 teaspoon freshly grated nutmeg

1/2 teaspoon confectioners' sugar ( icing sugar)
Directions
In a small saucepan, combine the cider, cinnamon, allspice, cloves, and ginger and place over low heat.

Cook at a simmer for 5 minutes.

Stir in the bourbon and bring back to a simmer; immediately remove from the heat.

Pour into 2 warmed mugs and top each with a slice of Nutmeg Butter.

NUTMEG BUTTER (makes about 16 servings):.

Put all ingredients in a small bowl and stir with a rubber spatula to combine.

Place the butter mixture on a sheet of wax paper or plastic wrap and shape into a log about the size of the original stick of butter.

Chill in the freezer for about 30 minutes, until firm but not frozen hard.

Slice into 1/4-inch rounds (about 1/2 teaspoon) to use in buttered drinks.

The butter will keep, frozen and tightly wrapped for at least a month; let stand at room temperature for 30 minutes before slicing it. It will keep in the refrigerator for about 2 weeks.