Cuban Flank Steak and Pepper Stew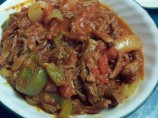 Photo by Debbie R.
Prep Time: 10 mins
Total Time: 2 hrs 10 mins
Serves: 8, Yield: 8 portions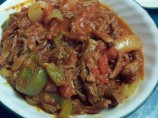 Photo by Debbie R.
About This Recipe
"This recipe is how I found out I like Cuban food, a lot. My husband, who is Colombian, loved this also. I just have to hide from him the fact that after cooking for a couple of hours the onions and peppers are discarded and new ones put in for the final simmer. He would find this wasteful, but it adds to the taste and texture of the dish. Don't be afraid of the rather large list of ingredients, the recipe is really easy, and oh so delicious."
Ingredients
8 tablespoons olive oil

3 lbs flank steaks, cut crosswise in 6 pieces

coarse salt

black pepper

3 large Spanish onions, 1 peeled and cut in large dice, 2 sliced

3 bell peppers, 1 cut in large dice, 2 sliced

2 tablespoons vinegar

1 quart chicken stock

2 bay leaves

1 teaspoon black pepper

1 pinch ground cumin

3 garlic cloves, thinly sliced

2 tablespoons tomato paste

1 1/2 cups crushed tomatoes

1/2 teaspoon Tabasco sauce
Directions
Season flank steak and brown on all sides in a Dutch oven. Remove. Add diced vegetables and lightly brown. Add vinegar, broth and seasonings. Add meat and simmer 2 1/2 hours over low heat.

Let cool 30 minutes. Remove meat to a large bowl and shred. Strain solids, reserving cooking liquid.

Saute sliced vegetables in now empty Dutch oven; do not allow to burn. Add tomato paste and crushed tomatoes. Simmer 15 minutes. Return meat and enough reserved cooking liquid, for desired consistency, and adjust seasonings.