Healthy Low-Fat Creamy Chicken Cranberry Apple Pasta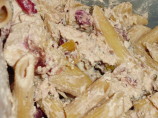 Photo by I Can't Believe It's Healthy
Prep Time: 5 mins
Total Time: 30 mins
Servings: 8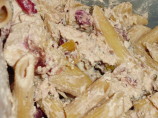 Photo by I Can't Believe It's Healthy
About This Recipe
"This is an amazing dish... gets the rants at dinners! We have made this multiple times, each a hit! Don't be shy to try out a pasta dish with some sweet and savory pairings! You will enjoy it!"
Ingredients
cooking spray

1 lb boneless skinless chicken, cut into pieces

4 green onions, sliced

2 tart cooking apples, thinly sliced

1 pinch ground nutmeg

3/4 teaspoon salt

1/4 teaspoon ground pepper

2 tablespoons cider vinegar

1 1/2 cups evaporated milk

1/2 cup dried cranberries

12 ounces whole wheat penne

chopped fresh chives, to top with

grated sharp cheddar cheese, to top with
Directions
In a large skillet sprayed with cooking spray, brown the chicken strips in batches and then transfer into a bowl.

Spray skillet again, and add green onions, apples, nutmeg, salt, and pepper; cook, stirring for about 3 minutes to soften.

Add vinegar, scraping any bits stuck to pan.

Stir in evaporated milk and cranberries, bringing to a boil.

Reduce heat and boil gently, stirring often, for about 3 minutes or until slightly thickened.

Meanwhile, in a large pot of boiling salted water, cook whole wheat pasta for about 10 minutes or until at your desired tenderness. Drain and return to the pot.

Add chicken and any accumulated juices to the sauce; simmer for about three minutes or until chicken is no longer pink inside.

Pour over pasta and toss to coat. Season with additional salt and pepper.

Serve sprinkled with chives and with cheddar cheese in side dish to top with, along with a side salad and bread. Dont let it sit to long in pot before serving -- the pasta will absorb the sauce.