New York Style Deli Pickles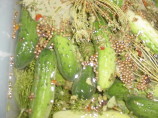 Photo by Secret Agent
Prep Time: 30 mins
Total Time: 144 hrs 30 mins
Serves: 150, Yield: 15 gallons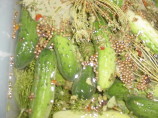 Photo by Secret Agent
About This Recipe
"These are easy to make and taste like the brined Deli pickles on the East Coast. I can't believe how many gallons of these I made last summer! If you like pickles you will love these."
Ingredients
10 gallons pickling cucumbers, medium sized, scrubbed

2 heads fresh dill, plants flower heads only

2 heads garlic, peeled

1 cup pickling salt

1/2 cup pickling spices

3 tablespoons peppercorns

3 dried hot red chili peppers

2 cinnamon sticks, broken

5 bay leaves

water, to cover
Directions
Layer the cucumbers and dill heads with garlic.

Pour the remaining ingredients over all and cover with cold, fresh water, filtered if you can.

Cover with cheesecloth.

Weigh down the pickles with a plate and jar of water. Cover with a clean tea towel.

Check after 72 hours, remove any scum that may have formed and wash cheesecloth, plate and jar of water and replace them.

Check after another 72 hours and see if they are done enough for you. If so, pack into sterile jars and cover with the brine.

Store in the refrigerator to slow the fermentation process.

I make these in a big dough bucket and pack into gallon jars and some plastic containers to give as gifts.